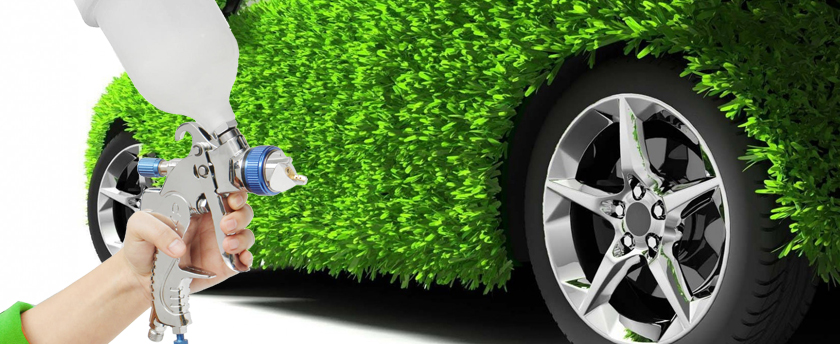 Working for our future
We are committed to providing you, the customer, with top-quality repairs and refinishing services. We also want to be certain our planet remains habitable for generations to come! To this end, we do our utmost to ensure that all our processes are as eco-friendly as possible.
From the equipment we use to the paint on your vehicle to the detailing process itself, we've made sure to minimise our impact on our environment
Our Eco-Friendly Paint
There are two types of paint used in vehicle repair:
Solvent-borne — This type of paint is made using petrochemical products, particularly the solvent used to thin the paint. These solvents release harmful VOCs (volatile organic compounds) into the atmosphere during the paint application process.
Water-borne — Water-borne paints do not use the petrochemical-based solvents to thin the paint, but are water-based and thus less toxic to the environment. They are no less effective, however, and provide equal protection and performance.
At Crash Repairs Croydon, we ONLY use a water-borne paint system. This helps us to reduce our emissions and keeps us as "green" as possible.
We're working hard
to make sure that our carbon footprint is getting smaller all the time. Our State of the Art Bodyshop although on the cutting edge of modern technology has the following processes in place...
We use low energy, low emmission paint ovens along with water based products
Low energy consumption infra red paint drying systems
Cardboard /paper separated
Baler used to compress cardboard for collection for recycling
All waste products separated, placed in individual containers and collected by recycling companies
Plastic parts stored and collected for recycling
Metals and aluminium separated collected for recycling
Tyres and wheel separated collected for recycling
LED lighting with controllable levels operated on sensors by areas
Controlled Heating operated on sensors by areas
Working towards total paperless processes
Conversion of electric hand tools to air were possible and practicable
Extraction stations on individual sensors for demand only when required
Public transport now used for one-way collections/deliveries instead of recovery truck to cut down on carbon footprint